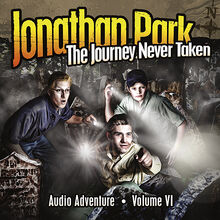 This is the 6th album of the Jonathan Park audio series.
The Journey Never Taken (album)

Album

6
Summary
The Polar Star Medallion mysteriously shows up at the Brenan Museum of Creation, quickly throwing the Creation Response Team into a scavenger hunt the world will never forget. Live the adventure with Jonathan and the Creation Response Team as cryptic clues send the team to Sweden, Scotland, and beyond in search of a promised treasure. Along the way, uncover the true history of Charles Darwin and his colleagues and learn how these men helped perpetuate the myth of a universe created without a Creator.
Episodes
Trivia